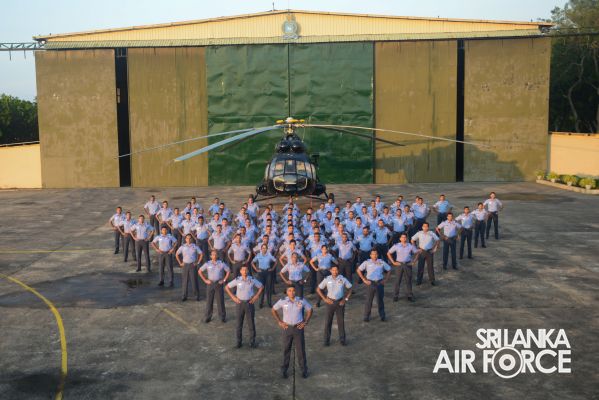 NO. 6 HELICOPTER SQUADRON AT SLAF BASE ANURADHAPURA CELEBRATES 30TH ANNIVERSARY
12:08pm on Monday 3rd April 2023
The No. 6 Helicopter Squadron at SLAF Base Anuradhapura proudly celebrated its 30th anniversary on 15 March 2023, and held anniversary day celebrations today (03 April 2023), under the guidance of the Commanding Officer, Group Captain MART Munasinghe.

The Squadron was established on 15 March 1993, at SLAF Base Katunayake with the arrival of Mil Mi-17 helicopters. Later, it was relocated to SLAF Base Vavuniya on 29 April 1993, and then moved to SLAF Base Anuradhapura due to high operational requirements.

To mark the occasion, the customary Working Parade was held at the Squadron premises, which was reviewed by the Commanding Officer of the Squadron. Following the parade, the Commanding Officer addressed the officers and other ranks, extending his appreciation to all members of the Squadron for the valuable contribution made by service personnel, including civilian staff. Furthermore, he remembered all those who had contributed to the success of the Squadron with deep gratitude and paid tribute to the fallen heroes of the Squadron.

The parade was followed by a friendly cricket tournament, held at the Base Sports Arena, where all squadron personnel were present. In relation to the 30th anniversary celebrations, the squadron conducted a 'Dansala' program at 'Ruwanweli Maha Seya' and also carried out a 'Shramadana Campaign' at St. Joseph's Cathedral as a community service project. Additionally, a special religious ceremony was held at 'Ariya Chinthashrama' to invoke blessings for all squadron personnel and their families.