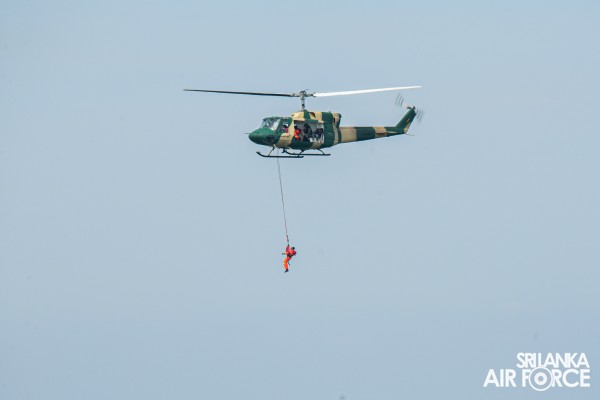 FIRE SCHOOL & FIRE TENDER MAINTENANCE SQUADRON CONDUCT NO 02 RAPPEL MASTER, NO 06 AIR SEA RESCUE ADVANCED COURSE AND NO 05 AIR SEA RESCUE REFRESHER COURSE FIRE FIGHTER RESCUERS 2023
4:13pm on Friday 28th April 2023
The final exercises of No. 02 Rappel Master, No. 06 Air Sea Rescue Advanced Course and No. 05 Air Sea Rescue Refresher Course were successfully conducted on 27 April 2023, at the shoreline of Browns Beach, Negombo, after a rigorous training programme conducted since 13 March 2023.

Pilots, Firefighters and Air gunners along with the instructors took part in this training exercise conducted by the Fire School and Fire Tender Maintenance Squadron (FS&FTMS) at SLAF Base Katunayake and Heli - rappelling training progrmmes were conducted under the guidance of No. 4 Helicopter Squadron at SLAF Base Rathmalana. Lifesavers, divers and vessels from the Sri Lanka Navy and the SLAF also joined the SLAF Fire rescue team during the exercise.

Air-Sea Rescue refers to the combined use of aircraft and surface vessels to search for and recover survivors of aircraft downed at sea as well as seafarers in distress. The SLAF Fire rescue team (Emergency first responders) has conducted many search and rescue operations to save the lives of flood victims and fishermen who capsized due to the gale-force winds experienced on all islands. Apart from that, SLAF surveillance aircraft also facilitate the rescue of survivors by directing surface vessels with quick and accurate references.

No. 2 Rappel Master Course, No. 6 Air Sea Rescue Advance Course and No. 5 Air Sea Rescue Refresher Course for the fire rescue team (Emergency first responders) consisting of two officers and twelve firefighters was conducted from 13 March 2023 to 27 April 2023 and trainee were undergone on rope rescue knots, victims transportation systems, first aid, swimming and water rescue techniques, breathing apparatus, rope rappelling, ascending and descending techniques, aircraft capabilities, safety procedures, emergency procedures, search and rescue procedures, victims rescue procedures with the help of winch operation, victims rescue procedure with the help of rope and confined space rescue procedures during the training.


The training programme was conducted under the supervision of the Commanding Officer, No. 4 helicopter squadron, Group Captain DL Hewavithrana, Commanding Officer Fire School and Fire Tender Maintenance Squadron (FS&FTMS) Wing Commander CP Hettiarchchi, who led the exercise with the guidance of Base Commander SLAF Base Katunayake Air Vice Marshal LH Sumanaweera and Squadron Leader BHMD Gunathilake who coordinated the training programme.