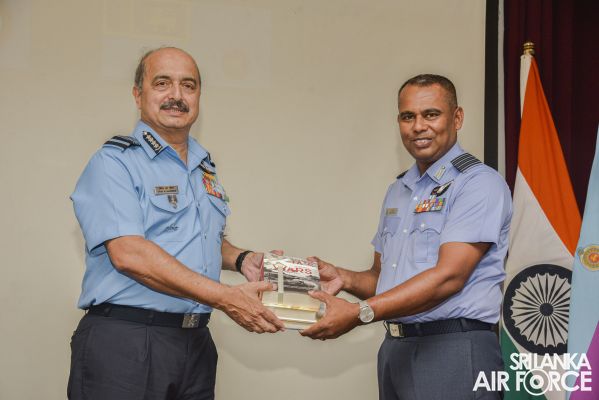 The Indian Air Chief Donates Books worth of Two Millions to Air Force Academy
9:20pm on Friday 5th May 2023
The Indian Air Force has extended a warm hand of friendship to the Sri Lanka Air Force by presenting a donation of books worth two million rupees during the official visit of Chief of the Air Staff of IAF to the SLAF Academy China Bay on the 4th of May, 2023. The gracious Air Chief Marshal Vivek Ram Chaudhari, Chief of the Air Staff of the Indian Air Force, personally presented the books to the Commanding Officer of the Junior Command and Staff College of the SLAF Academy China Bay, Group Captain DMSB Dassanayake.

This donation represents a valuable contribution to the knowledge base of the Sri Lanka Air Force and serves as a symbol of the strong bond between the two air forces. The presentation ceremony was attended by a number of distinguished dignitaries, including the Commandant of the SLAF Academy China Bay, Air Commodore SDGM Silva, and other Commanding Officers of lodger formations.

This generous donation underscores the commitment of the IAF to promoting learning and bolstering the capacities of their SLAF service personnel. This contribution will be deeply appreciated by all those who have the privilege of utilizing these valuable resources.

After the book donation, the exchange of plaques took place at the officers' mess following the lunch with the delegation and the fellow officers of the Academy.