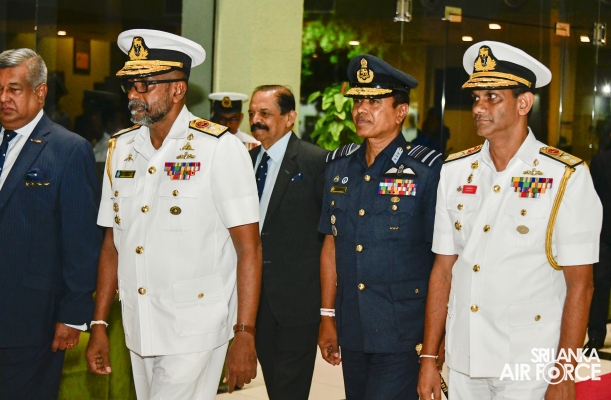 SLAF COMMANDER ATTENDS 9TH GENERAL DESHAMANYA DENNIS PERERA ORATION
9:26pm on Sunday 17th September 2023
The 9th annual memorial General Deshamanya Denis Perera oration was convened on 15 September 2023 by the Association of Retired Flag Rank Officers (ARFRO) at the General Sir John Kotelawala Defence University. This significant event was attended by the Commander of the Air Force, Air Marshal Udeni Rajapaksa and was organized under the predominant theme of "Gray Zone Maritime Conflict's Overspill to Indian Ocean."

The solemn occasion was attended by the Commanders of the Army and Navy, as well as a substantial assembly comprising both serving and retired officers representing the tri-services, alongside the relatives of General Deshamanya Denis Perera.

General Deshamanya Denis Perera, a distinguished alumnus of St. Peter's College, left an indelible mark on the military landscape of Sri Lanka. He served as the Commander of the Army from 1977 to 1981, during which his leadership and dedication to duty were exemplified. Following his illustrious military career, he assumed the role of the Sri Lankan High Commissioner to Australia, where he continued to contribute to the nation's diplomatic efforts. Later in his journey, he was bestowed with the honorary position of Chancellor of the General Sir John Kotelawala Defence University, solidifying his commitment to the advancement of military education and national defence.

In recognition of his outstanding and meritorious service to the nation, General Deshamanya Denis Perera was honoured with the prestigious title of "Deshamanya" by the Government of Sri Lanka in the year 2000.